Toriel kept her hand on the wound.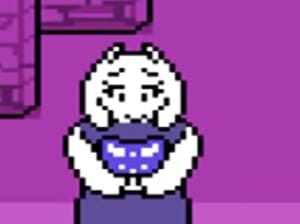 Toriel
Just so fragile, they are just so fragile.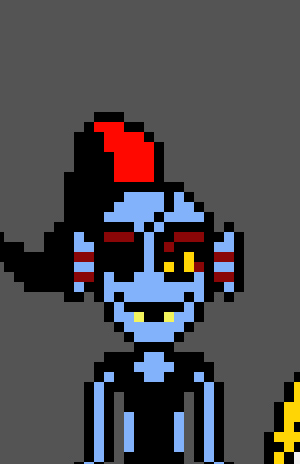 Undyne
Come on, Frisk!You can do it. You fought me, you can do this.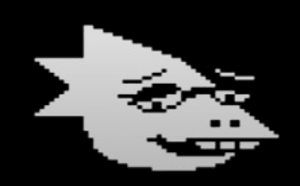 Alphys
There is a lot of blood loss. They hurt her body not her soul.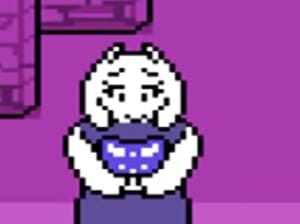 Toriel
Come on, Frisk. It must have hit one of the human's sensitive organs.
Papyrus shared a look with Sans.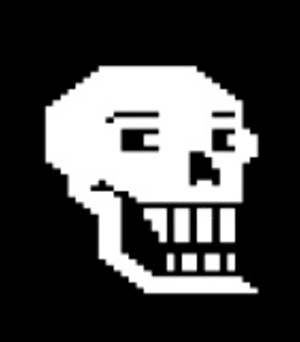 Papyrus
Is the human going to die?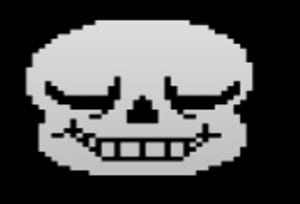 Sans patted his backbone.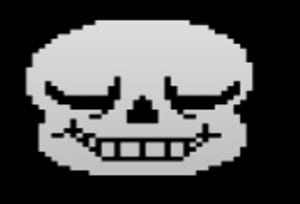 Sans
Just a few minutes earlier.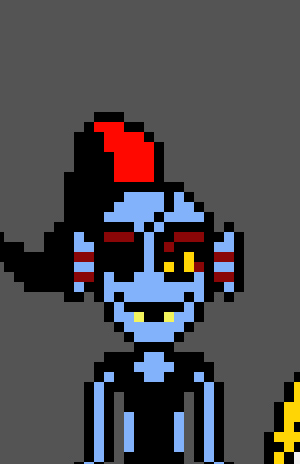 Undyne
We tried. We moved as fast as we could.
Toriel's hands were absolutely soaked.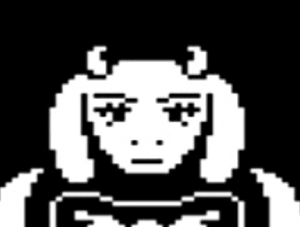 Toriel
She is going to die.
Asgore tried to touch her shoulder, but she rejected it.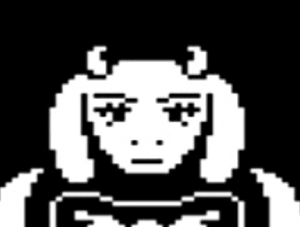 Toriel
She did the one thing no one else could. Fourteen years ago, she freed us. She allowed us all to see the skies and stars again.
Undyne saluted Frisk, while Alphys got out a handkerchief. Papyrus also saluted but with manifested tears in his eyes.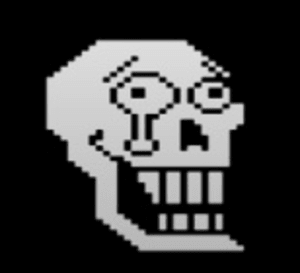 Papyrus
Goodbye, poor human. Goodbye, Frisk.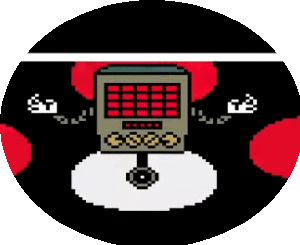 Mettaton
That kid really knew how to drive ratings! Goodbyyyye, human!
Sans stayed silent. He didn't salute or cry, or even give a goodbye.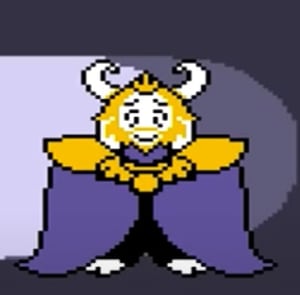 Asgore
We will give her the finest funeral, worthy of her spirit.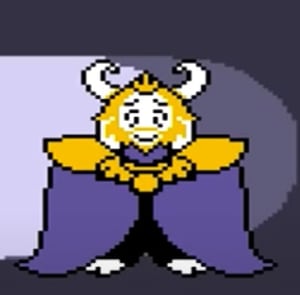 Asgore
Her soul will be leaving this body soon. Let it wander in its freedom until it finds it's own way.
Everyone in the room tried not to cry too hard. It wasn't right to get overzealous until at least the body was dead. However, everyone felt so close to the human, even fourteen years later. She changed each of them for the better.
Everyone wept. Said some small goodbyes. Except Sans.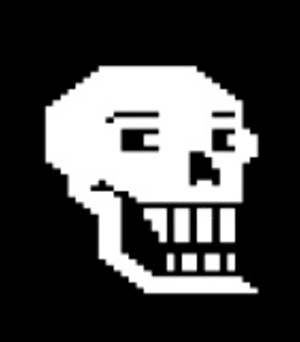 Papyrus
Brother? You liked the little human too. You even went out hunting underneath my nose for her. You should say goodbye too.
Sans scratched his skull. He walked toward her.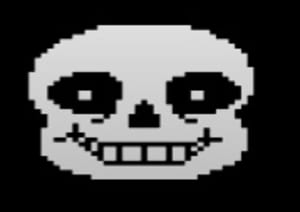 Sans
Her soul's leaving soon.
He tapped his slippered foot.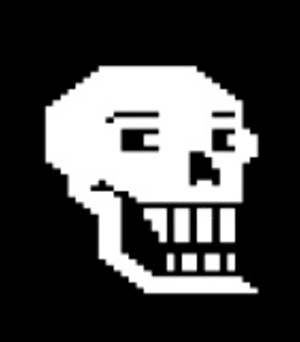 Papyrus
Yes. Say goodbye, Sans.
'Kid. I owe you. I ignored you toward the end, I didn't want to deal with it. I didn't like dealing with things. But, I've changed a lot since the last time I saw you. For the better.'
Sans looked at her closed eyes. She was a lot different than before. No visual deceiving, this was her. He glanced toward Toriel who refused to take any comfort by the king.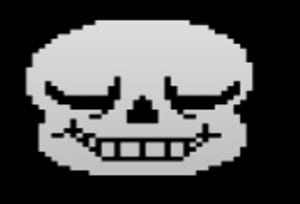 Sans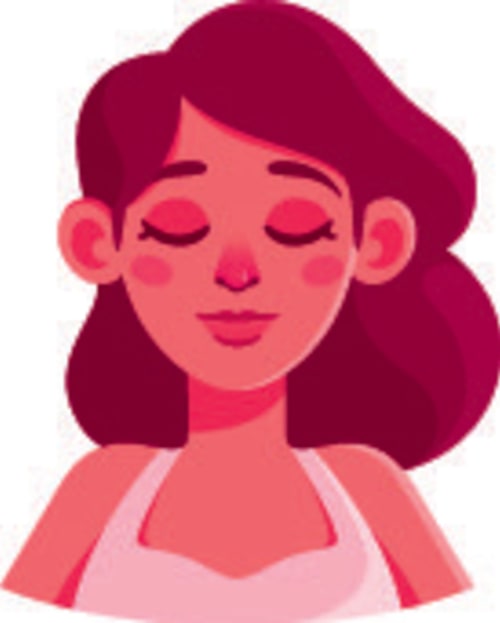 'I could let it go. Say goodbye, and let it go. Then wonder how I'll sleep at night, just like with Princess Chara.'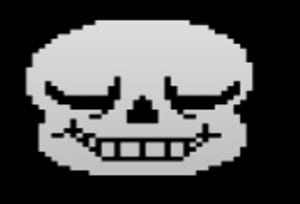 Sans looked at Papyrus.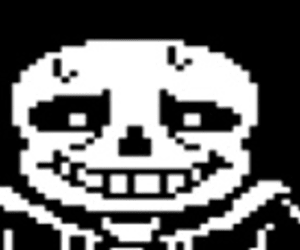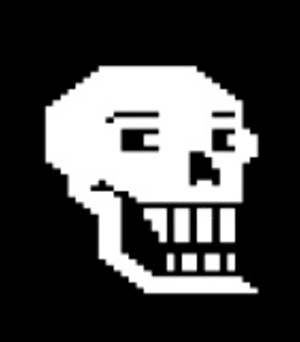 Papyrus
You have to, Sans. There is nothing left.
Yeah. There was.
Everyone shouted at first when Sans shoved his bony hand into Frisk's wound.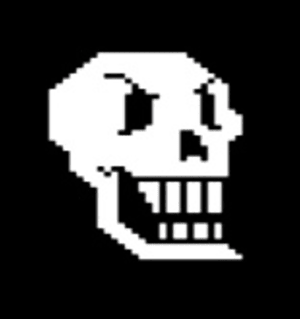 Papyrus tried to move him as Sans magic poured into the human's wound. Deep signals of blue shined through her body, mixed with red deep in her veins.
He removed his hand and took several steps backward, holding his bony hand. It appeared to be cracked and bleeding.
Papyrus grabbed Sans' bony hand.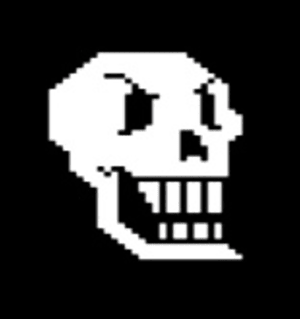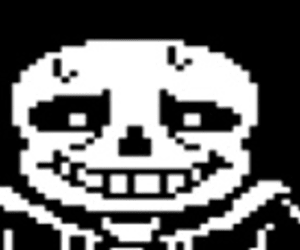 Sans looked at his bony hand briefly, then looked back at her. The wound was closing. He looked back at his hand. The tingles were gone.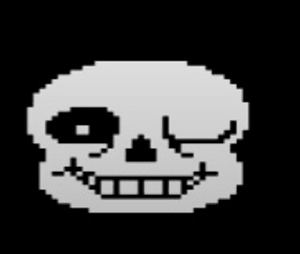 Sans
I'm fine. She is going to totally see to-marrow.
Toriel, Undyne, Alphys, and Asgore all rushed to his aid.
Sans gestured to Frisk, hoping that would work.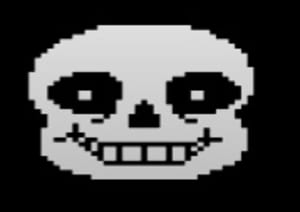 Sans
Frisk isn't dying. Round of applause?
He looked toward his bony hand again, and seeing the crack had sealed up, tried clapping with it. Good.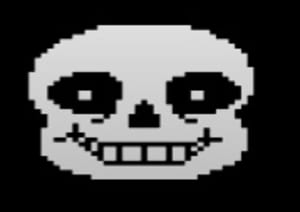 Sans
See? Okay? Go see her?
Undyne approached Frisk first, along with Alphys, and then Toriel and Asgore.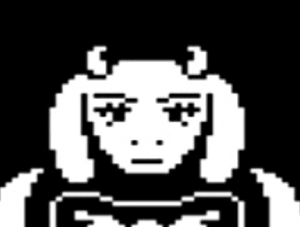 Toriel
The human lives? But, even I couldn't do anything. What did you do?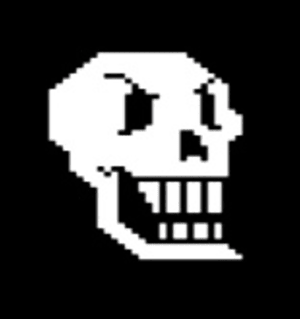 Papyrus looked disapprovingly at Sans.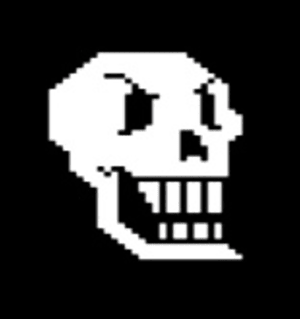 Papyrus
What was that? What did you do?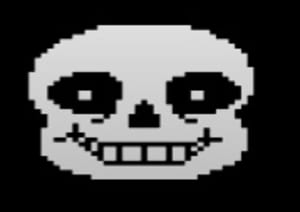 He knew it was coming. The looks. They knew.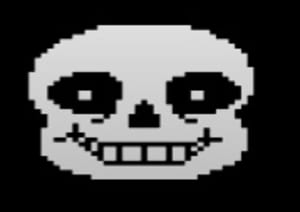 Sans
It's not what you think.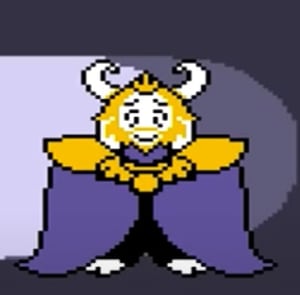 Asgore
What. What was that?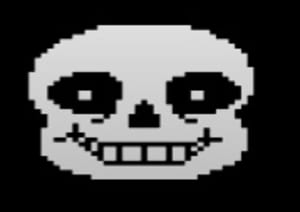 Sans
She's gonna live. Be fine.
He shook his hand, completely recovered.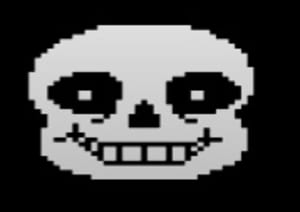 Nope. No yay.
Sans covered his skull with his hand. 'Oh no. Here it comes.'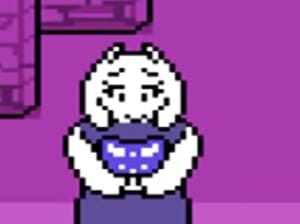 Toriel
Sans? Why . . . why didn't you do that for the princess?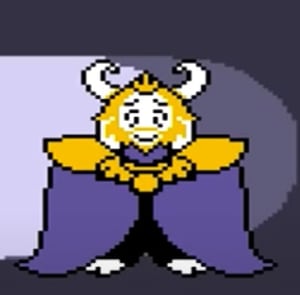 Asgore
Could that have ended your life? Was it risky?
They already knew of his ability to judge, so it was time to come out with it.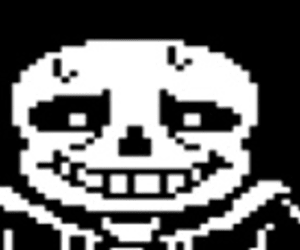 'Their little girl, dying, leading to Asriel's . . .'
Nah, screw the truth. He did enough for them.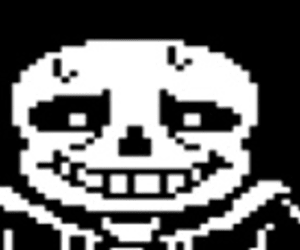 Sans
Yeah, it does risk my life.
He tapped his slippered foot lightly.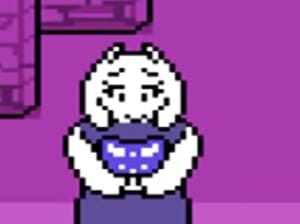 Toriel still seemed . . . disturbed by what he did, but at least the lie of 'risking his life' kind of helped.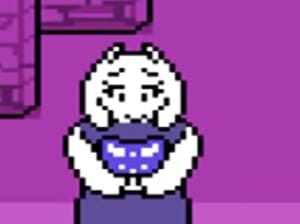 Toriel
You risked your life for Frisk?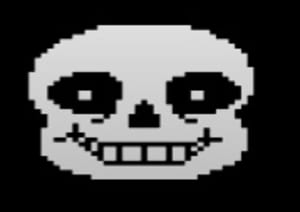 Sans
Hey, we wouldn't be here today without her.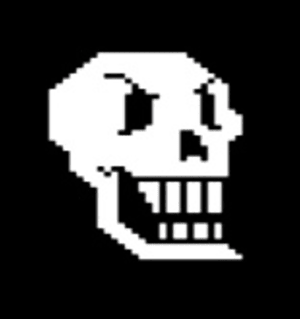 Papyrus
But if it was risky, you shouldn't have done it! What if it had hurt you? Permanently! What if you had your bone marrow dripping out permanently!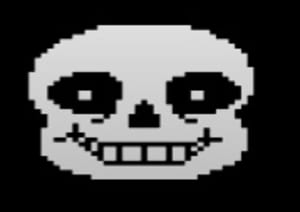 Sans
Oh, well then I would have died.
No, no time for that grisly joke.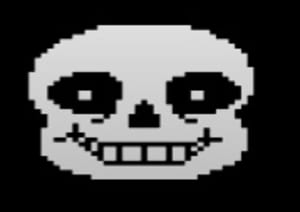 Sans
I knew enough now so the risk was lower.
Sans gestured to Frisk.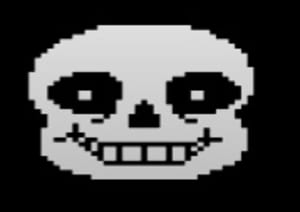 Sans
Come on, Papyrus, I hunted for her, I couldn't just let her go.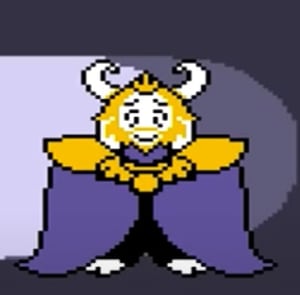 Asgore
Thank you, Sans, for your courage. Frisk made a large difference in the entire Underground.
Frisk started to moan.
----------------------
Frisk groaned, hanging on as tight as possible to whoever saved her. Her vision was strange. It was like looking through frozen ice. Colors could be seen, but nothing definite. The sound was almost animalish. Others sounded a bit . . . slimyish. Then, she felt herself being moved, but she could have sworn it was a furry feeling. Fur. And, eeh, a little slimy on the other side of her?
'What's going on? What am I touching?' What was wrong with her sight? What were the strange sounds she kept hearing? Why was she wet and sticky? Over and over. What was that? Then she finally heard something she recognized.
Understand this one?
That voice. It was almost . . . familiar. Deep. More relaxed in its manner. Frisk looked through the icy vision to see who it had been. She heard the same sound again, but with a strange language she didn't understand.
Found the language.
There it was again. 'What was that?' Frisk put her hands out, trying to feel around. 'Who's there?' The voice she recognized was heard again, but it spoke in the other language once again.
-------------------------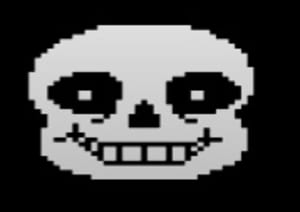 Sans insisted. She wasn't dying anymore. She was wide awake and feeling around and alive. Very alive. Her emotions were strangling.
She couldn't see very well at all, but Sans and Papyrus could clearly judge her, and see into her. In fact, Sans made his brother move back some, not liking the wallop he was feeling.
Toriel finished sealing up the wound.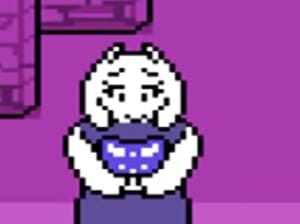 Toriel
What's wrong with her?
Sans could only graze the top of the strangling feelings, but it was enough to feel, and at least get some sense of what was going on.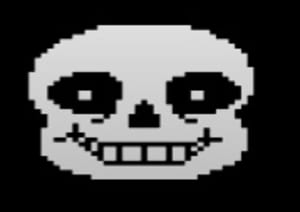 Sans
She doesn't remember us. She can't speak monster. She can't even see down here. She's . . .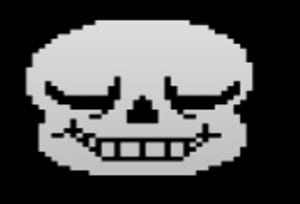 Sans
I don't know. There's a lot of hurt on top of her soul. I can't get through, so just nobody touch her.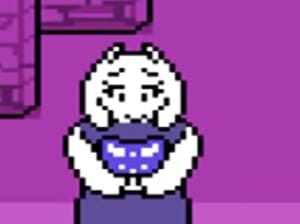 Toriel
How can she not speak Monster? She spoke it perfectly fine last time. Oh no, wait. She never talked. But she communicated.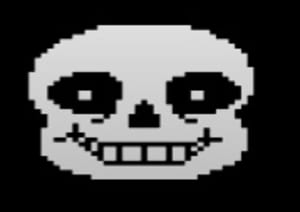 Sans
Telepathically, which isn't a big human thing.
Sans moved slowly around her. Oh, he knew they should have got her back when she was still a kid!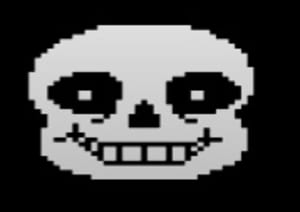 Sans
Looks like a human soul must have clawed onto hers.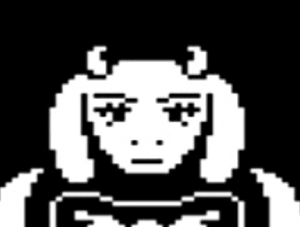 Toriel
But they were all with Asgore, completely far away.
Toriel watched as Frisk moved her arms around.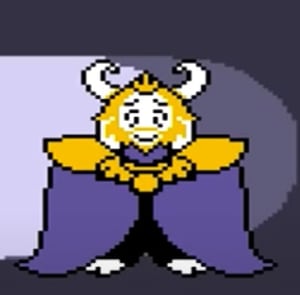 Asgore
Souls can be mobile, if the body is.
Asgore looked back toward Toriel. He swallowed.
Toriel's eyes widened.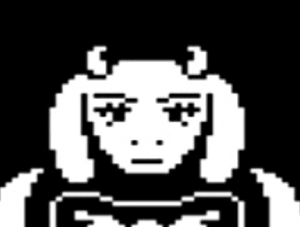 She stepped more away from Frisk.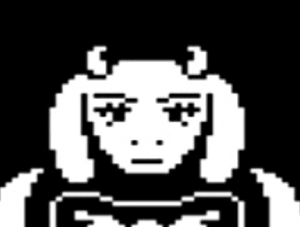 Toriel
But. But even so, a fallen soul with no body? They can't do anything, they never can. They fade away.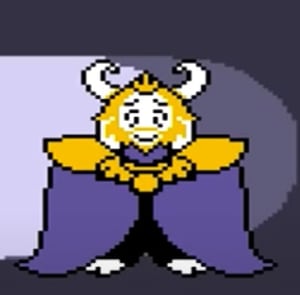 Asgore
There is a barrier around us. The others were contained but perhaps . . .
Toriel sniffled lightly as she wiped her eyes.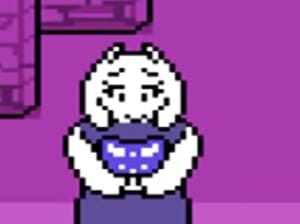 Toriel
Humans. Such. Odd creatures.
She took a deep breath.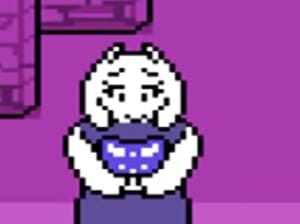 Toriel
For an outer soul to even interact with another, let alone speak and-and . . .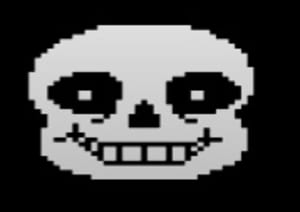 Sans approached Frisk and spoke in her language again.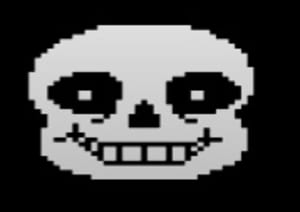 Sans
You okay, Frisk? You remember me?
Frisk grabbed at her head.
Frisk
Who are you? Where are you?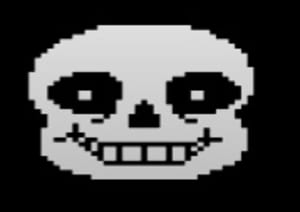 He purposefully forgot his last name. He had a deep feeling he was getting closer to knowing what was going on.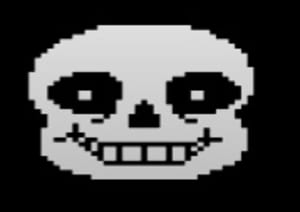 Sans
You didn't forget me, did you?
Frisk turned her head, and closed her eyes before reopening them.
Frisk
No, that's . . . no. Impossible.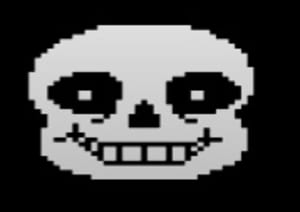 Frisk
No. No, you're just in my head. No. That's not . . . what's happening?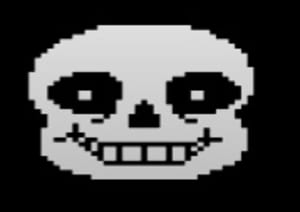 Sans
Hey, Kid? You know, you never told us why you fell down in the mountain in the first place?
She stopped standing and moved toward the ground, feeling around on it.
Frisk
I-I don't want to talk . . . where am I, am I in a session? I am not in a session again, I don't have sessions anymore! Where am I?
Sans moved back to speaking monster to the others.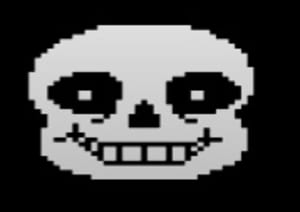 Sans
Yeah, it's bad. She repressed us.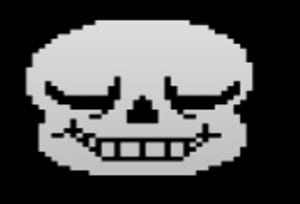 Sans
Something happened up on that surface to make her fall in the first place. Then, what with another soul inside of her sharing her body, fighting to keep her soul against so many . . .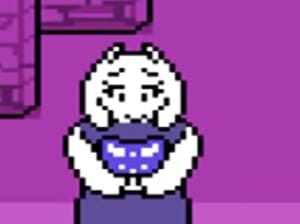 Toriel
She doesn't remember us.
Toriel held her eyes over the human that was touching around the floor, trying to find safety.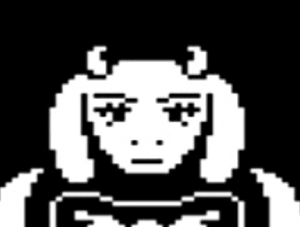 Toriel
You were right, Sans, we should have brought her back much sooner.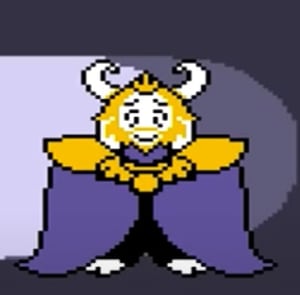 Asgore
At least she's safe. The human is safe now.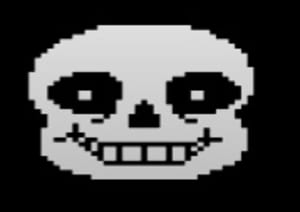 Frisk got up off the ground and started to run out of the castle.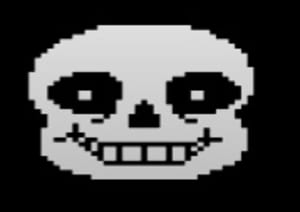 Sans
Somebody got their eyesight back. Papyrus, you take left. I'll take right.
'This is impossible, it's in my head, it's in my head, its in my head!' Frisk tried to run away toward the only light source she could see.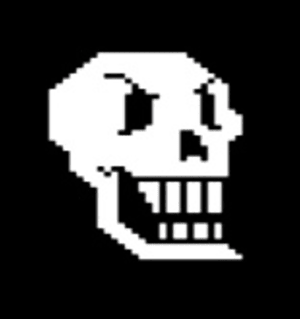 Papyrus
Stop right there, Human!
Frisk froze as she saw a skeleton about her size just ahead of her.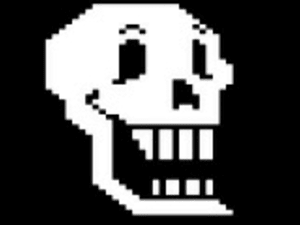 Papyrus
It's alright! I am using your language to tell you that there is nothing to fear, human.
It. Talked. She took several steps backward. 'There is some kind of skeleton talking to me . . .' How was that happening?
'I was leaving the theatre with Gloria. We were attacked. Someone grabbed me on a bike.' She looked down at her side, it felt wet and sticky. 'Blood?!'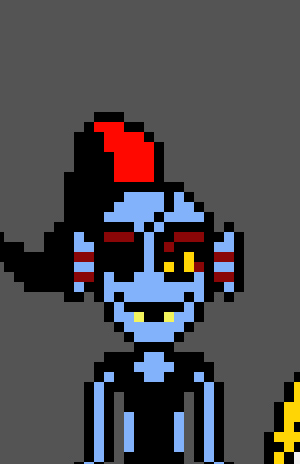 Undyne
Blood stopped, don't worry. Come on, Punk, you have to remember us.
Frisk couldn't help a small squeal. A fish, it was a fish?! Talking to her, seafood. Seafood was talking to her.
Seafood was talking to her. 'Did somebody drug me? Is someone trying to steal my kidney or something?'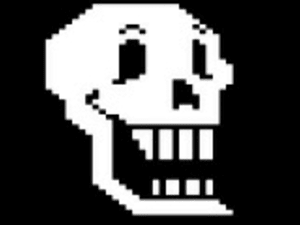 Papyrus
That's Undyne. I'm Papyrus. Don't you remember?
'Undyne. Papyrus.' Those names. The names from her dreams? 'That was all in my head. The whole journey, it was in my head.'
Frisk pointed at them.
Frisk
I won't regress. I know this isn't real. I dreamed you up to get out of the situation as a child! No, I refuse to believe that you are real!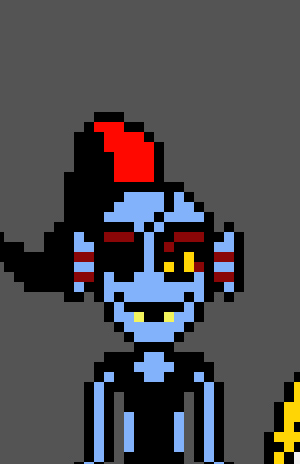 Undyne
It's definitely the same human. Rebelling spirit is the same. We are very real, human! Don't you remember our grand battle?
Frisk stumbled back. She touched the blood all over her. It felt real. It felt so real.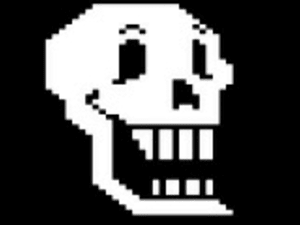 Papyrus
You aren't regressing, human. You were in deep trouble, and as your friends, Undyne and my brother went after you.
Frisk
After me? The bike. Who was on that bike?
You know, deep down in your bones, Frisk.
That voice. The first one that spoke. Frisk turned around and saw him.
Sans the Skeleton. He didn't look like how she used to picture him in her head. How . . . how her unconscious voice described it.
He didn't wear a thick blue coat with a white shirt and black shorts. He was wearing a jean jacket, a black shirt with a skull that said something like 'joke time'.
It was hard to tell since the jean jacket hid it. He wasn't wearing shorts either, he was wearing black pants. The slippers though, the odd placed slippers. That was still the same.
And they weren't close to the same size as last time, he was much shorter. Of course, she'd been 8. Still?
Why would her conscious 'update' that look? She looked back toward Papyrus. He was wearing a simple shirt and jeans. Undyne was wearing shirt and jeans. Frisk turned to look back toward Sans again.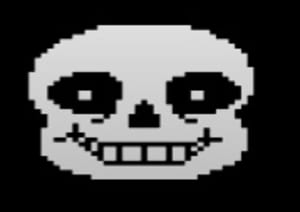 Sans
Coming back to you now, Pal?
Frisk held her finger up, trembling. She pointed toward him.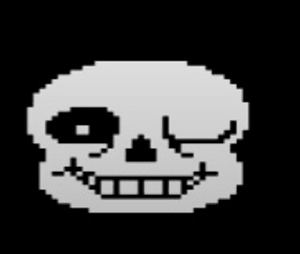 Sans
There ya go, that's a start. That there's a bone-ified start.
'Bone-ified. Bad punning. That's. It's.'
She fainted.
‐‐-----------------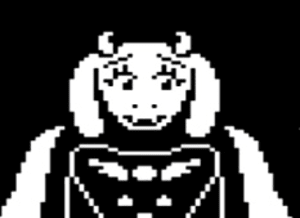 Toriel
Frisk? Frisk, are you waking up?
A gentler voice. Frisk looked beside her and saw the world's biggest most massive goat. Wearing a purple shirt and jeans. Okay?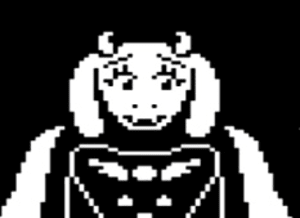 Toriel
Do you remember me now?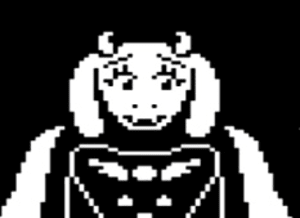 Toriel
Yes, yes that's my name.
She sat closer next to her.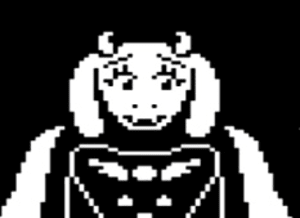 Toriel
Do you remember the Underground now?
Frisk
It was symbolism. A way to . . . you, you were supposed to . . . What's going on?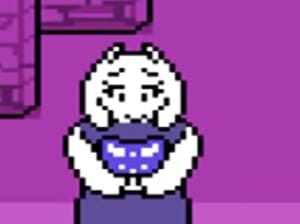 Toriel
Well, you were under attack I'm afraid.
She took her hand in her big large paw in a gesture of comfort. Surprisingly, Frisk found she didn't flinch.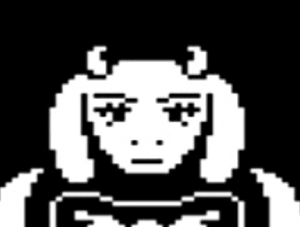 Toriel
There are things I need to discuss with you, but for now as troubled as you have been, you simply need to know this. Underground is your home now.
Frisk
But. I don't belong here.
Frisk tried to stand up.
Frisk
I can't stay here. I have to get back to my Aunt and my cousin.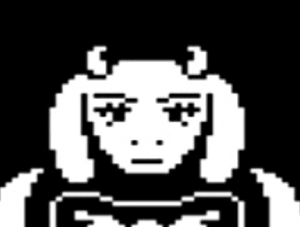 Toriel
That can't happen this time. You have to stay, it's for your own good.
Frisk
Déjà vu. Somehow. Look, I don't remember everything.
Frisk stood up, looking around the room.
Frisk
I was supposed to forget all this. It was in my mind, this, I shouldn't remember anything. It's dreams. It's . . . spotty.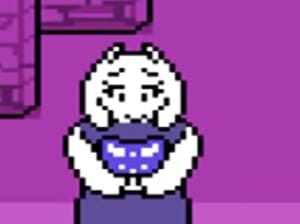 Toriel tried to follow her.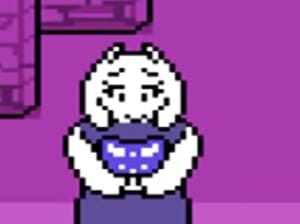 Toriel
What do you remember?
Frisk
I don't know, I don't even know. I remember . . . a voice
Frisk
A comforting voice. She did so much for me. And.
Tears were welling up in her eyes
Frisk
And she's gone. I'm alone this time. I can't be here, not here. I have to go.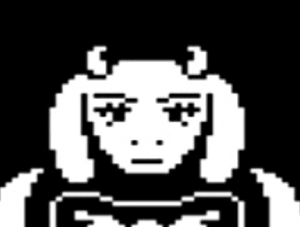 Toriel
Your life is in danger out there. I can't just let you leave.
Frisk darted to the door, swinging it open and down the stairs.
Familiar. Familiar. Familiar. Run. Run. Run. Move. Move. Move.
She had ran as fast as she could, not even caring if Toriel chased her. Not the mountain, she had to get off the mountain.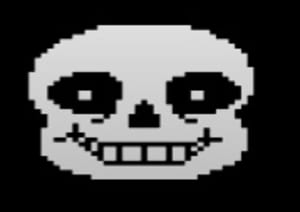 Frisk stopped as she saw Sans the Skeleton appear in front of her. She took a few steps back, trying to figure out how to pass him. What did he want? What did he like? Who was he again?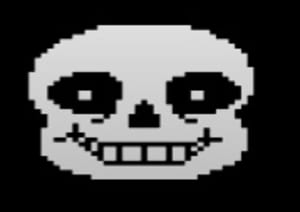 Sans
Normally known as Sans, but good to see your memory returning a bit. Now, turn back around. You can't leave.
'What was it about that one? Hmm. I have to get out, what was it? How did he fight?' All of the monsters, they all fought. Fought and fought. Nothing but fighting until the tide turned. How did . . . strengths. Weaknessses. 'Undyne was a spear. Alphys, her lab. Toriel, fireball like, I . . .'
He just stood there, staring right back at her. 'What is he doing?'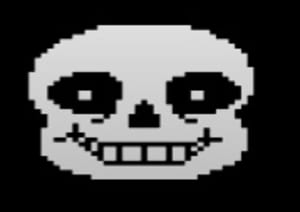 Sans
Still not quite there yet with me, huh? Eh, it'll come. When it does, we can finally talk. Until then, doesn't matter. You can't go any farther.
No way. She was getting through. There was light just on the other side of him. 'A distraction, I need a distraction.' She looked on the ground, remembering something else.
Yellow flowers. Golden flowers.
Frisk just realized she was outside the Castle, right next to the throne. There was a long gap behind Sans and then light.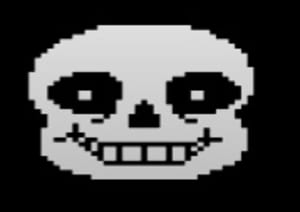 Sans
Fell. Remembering everything but me. Kind of hurtful so far, Kid.
'Kid. Kid. Kid. Kid. You'd be dead where you stand.' Frisk took a step backward from him, and then another, and then ran in a different direction. Only to find him appearing in front of her again.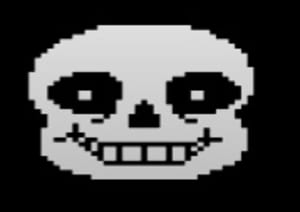 Sans
Okay, clearly wrong memories. I sense a lot of fear in you, Frisk. I'm betting I know what you remembered.
Frisk watched him take a step forward with his slippered foot, but she took back off in the other direction. 'Light, light, light, light, light!'
When she reached the light, she gasped as she saw several hundred humans with their weapons aimed at her!
Sans appeared in front of her, and she felt herself being scooted back. Somehow. She tried to grasp the ground, but she kept moving.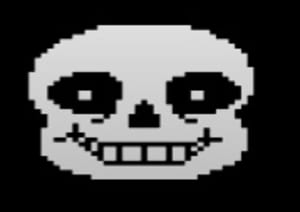 Sans
Looks like I forgot something too. Your DETERMINATION always was through the roof.
Frisk felt herself on the ground, then back on the castle floor.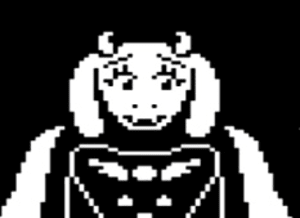 Toriel
Oh, Frisk. Let's get you cleaned up now that you're feeling better.
Toriel didn't even seem surprised she ran.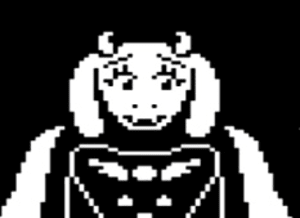 Frisk
I can't stay. I won't stay.
Frisk tried to run again, but this time, she couldn't. Instead, she heard a chuckle.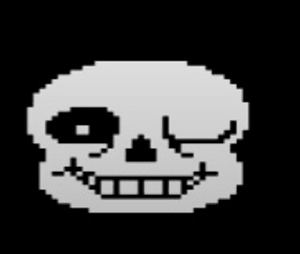 Sans
I really forgot the whole DETERMINATION thing. You were a real skull ache, Frisk.
Sans appeared in front of her. She looked her enemy in the eye, knowing she shouldn't back down.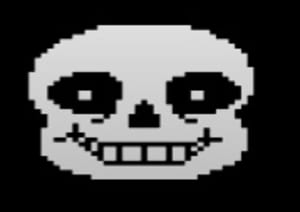 Sans
Now, why don't you be a good girl and . . .
The eye sockets. For some reason, he had strange lights in them. He twitched them ever so slightly at her. She couldn't turn away from them, they were almost hypnotic.
They moved slightly up, then down, then slowly back up. Then, behind solid teeth she heard something in a strange language again.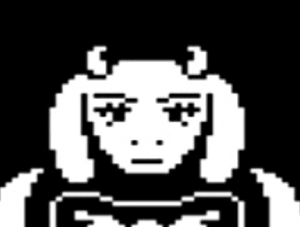 Sans broke his gaze at Frisk, hearing Toriel. He had rescued her, she ran, and ran again. She was always moving, always twitching.
He couldn't help it. He had a chance to really study her.
Her eyes were a beautiful blue color, almost a turquoise. They stared at him with a sense of wonder. She was staring back at his eye sockets as much as he was staring at her.
Seeing what he was missing now that he slowed Frisk down, he stole a quick glance downward.
Her clothes were ripped and covered with blood, but he stared at the strange skin of the human above the bloody parts. She was breathing heavily, causing her chest to move up and down.
Besides her clothes being ripped on that shot, the simple buttons didn't all survive that shootout. Decently covered, but from so close he could see the top shape of her cleavage and trailed upward to the throat, then the funny lips, right back to the eyes that refused to back down.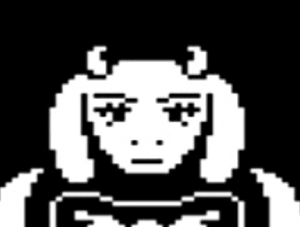 Toriel
Sans, for the last time, will you leave so I can take care of the human? The blood and ripped dress should be repaired, and perhaps if I explain why she must stay, she'll quit running? Just, stand outside the door and I will holler if I need you? Please?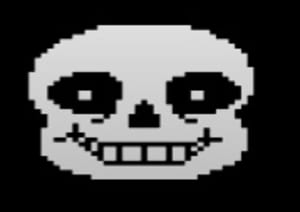 Sans disappeared before he aggravated the queen anymore.
Sans took his position back outside, his Royal Guard dog replacements now free. Papyrus was on the other side.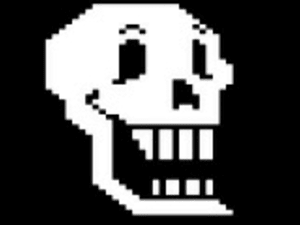 Papyrus
The human is quick. Much quicker than before. We will have to start watching behind us for her fast footsteps too. Last thing we need is her coming out and surprising these humans again. Good job, Brother. I know it had some risk, but you really saved a life today.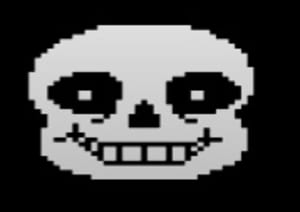 Sans played it off. Although, it was something. Not to be boasting about, but he felt like a debt had finally been repaid correctly.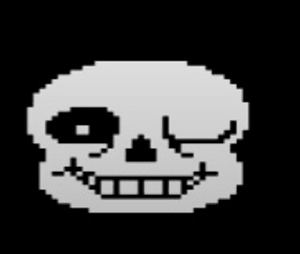 Sans
I just had a heart of gold today.
His playful little joke made Papyrus groan, but it didn't bother him too much. Sans didn't overdo it. It just felt like a good time for a good pun.
He didn't have to strive to make puns as much as he used to. When his humor broke loose, it was free flowing and natural.
In the past, being sealed up in a mountain, laughter and jokes helped carry him through it heavier. It helped carry others through it too, especially at Grillby's.
Yep. Technically, he saved her twice today. Debt definitely repaid. He still wanted to talk to her, to clear the air, but he couldn't do that until she really remembered more about him.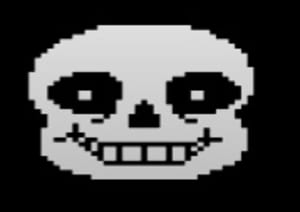 Sans
What do you want for supper? Make or Take?
Even though Monsters couldn't roam too far from home, there were exceptions. There was a gateway authorization card that Sans and Undyne used that day. It allowed them to go anywhere in the world, for as long as they needed to. (Well, okay, humans would get mad after like a whole week.)
Then there were the temporary pass cards. Pass cards could bring out twenty monsters a day, but only at an already arranged location.
Since there were a ton of potential 'customers' stuck in one area, there was definitely always something in their favor. Everybody wanted a profit, and take out of just about any kind could be had around there. From food to clothing. Usually boxes were collected on the outskirts at the bottom a few times a day.
With all the added advancements, Papyrus quickly understood what he was doing wrong with spaghetti, and he hadn't cooked inedible spaghetti in years. He was actually a decent cook now who fixed an assortment of food.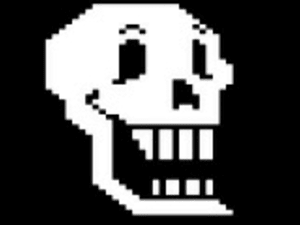 Papyrus
It has been a stressful day. I suppose we can order out. What should we go for?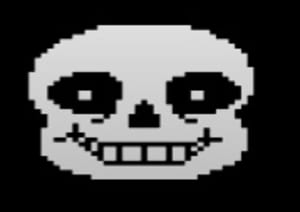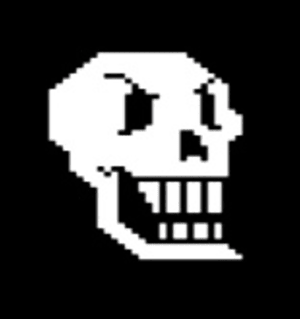 Papyrus
You mean from inside the Underground? G and M? Reservations are at least two hours long.
Grillby's and Mettaton's, thanks to being able to purchase on the outside of the Underground, also changed. Since they were always inside the Underground, in fact the only establishments that could be inside, they were both a rival to be reckoned with.
However, monsters being monsters, they joined forces instead and set up three establishments.
They were each built more like the old Mettaton's including hotel space, but they also had hot tubs, swimming pools, and of course access to streaming programs, with anything by Mettaton being free and the rest had a 'luxury charge' to it.
Thank goodness though they still had their classic menu. There was nothing else out there that would ever compare to the goodness of an old fashioned Grillby burger and fry.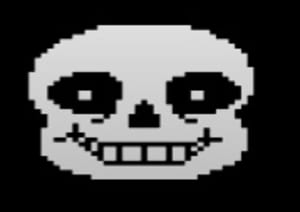 Sans
Yeah, let's do it. I'm a little nostalgic tonight.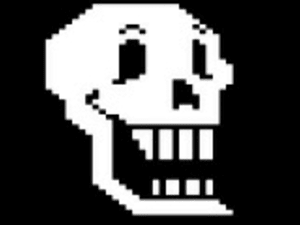 Papyrus
Hm. From the human?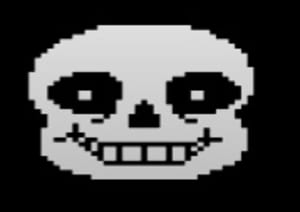 San's pulled up the sleeve on his jacket and looked at his watch.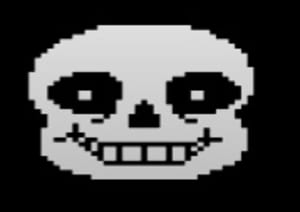 Sans
I saved the human twice. Think we can get off early on good behavior?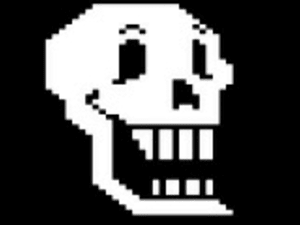 Papyrus
I bet that can be arranged. Which location?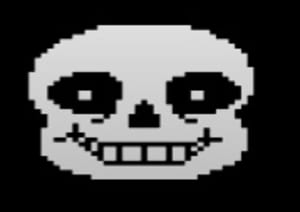 Sans
G and M 3. Mettaton's old place.
-------------------------
Toriel looked toward Frisk. She was staring down at her lap, no longer running.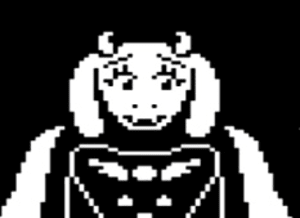 Toriel
I am sorry. I had no idea what treachery could come about for a simple proclamation. I only wanted-
Frisk
Protecting a young child from the outside world. How strange. Over fourteen years of running, I end up right back here.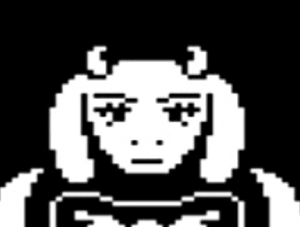 Toriel
Fourteen years of running? From the mountain. Frisk? How did you fall in?
Frisk closed her eyes. 'No. I can't do that anymore.' She opened her eyes back up.
Frisk
What about my aunt and cousin, the people I used to live with?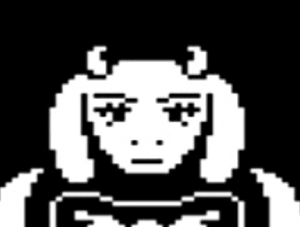 Toriel
Oh. Sans said your 'mom', I suppose that would be your Aunt, wasn't in good condition.
Frisk
Did she die? My cousin?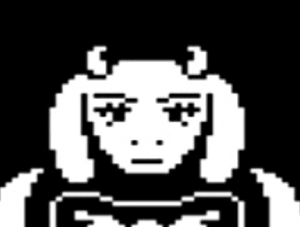 Toriel
Your cousin wasn't hurt. Not when Sans was there. Whether something happened afterward is a question.
Frisk
No, it's not. I can't leave them out there like that, they are targets. I need to get back to them.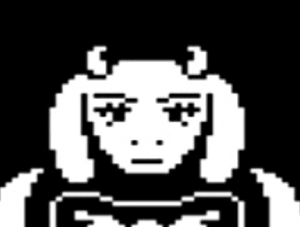 Toriel
The human authorities are already watching over them. You see, Frisk, even though we are only permitted so far, we are in a way integrated.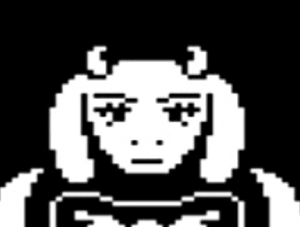 Toriel
As you just witnessed, Sans legally came after you. There are also passes for others. There are a lot of rules, but even things being brought in? There is so much that has changed since you were a child.
They continued to speak when Alphys came in the room.
'Lab'. Frisk looked at Alphys.
Frisk
You were responsible for Mettaton?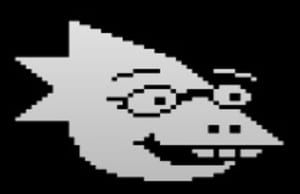 Alphys
Uh. Yes. Uh. This is all sudden for you, so if you want, you could come stay with me at the lab tonight?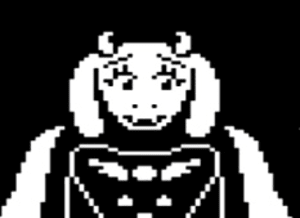 Toriel
Tempting as it is, the castle is not the brightest place for you to be. If you promise to stop running, I think Alphys would be a good place for the night?
Frisk
Are you sure someone is watching over them? Who saved me? Who shot me?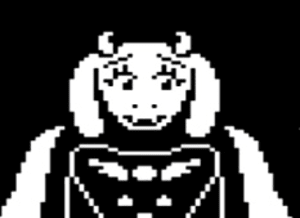 Toriel
Human. You have been through a great deal.
Toriel patted her shoulder.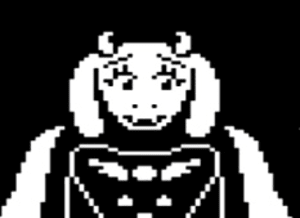 Toriel
Tomorrow, a better explanation will be given. Please go with Alphys?
Frisk looked toward the yellow monster. 'I want to get out of here, but there is trouble waiting for me. Humans with weapons. My family is at risk because of me.' A resolution tomorrow from Toriel. Right now, she'd go with Alphys. She needed food and rest.
Then she could dig up more.
Alphys Lab: Bedroom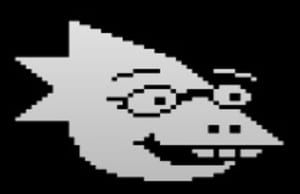 Alphys
I know it's not the greatest living place. It's nicer than it used to be though. And, it's closer to G and M 3, so it feels less lonely when you look out the window. So? Do you want to eat anything for supper? We can order out. We can order just about anything.
Frisk
Is my aunt all right? Has anyone been able to find out anything?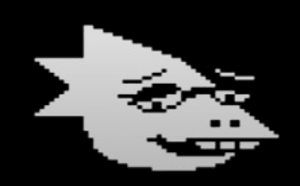 Alphys
Not yet. Humans don't generously extend information.
Frisk
Do you know who shot me?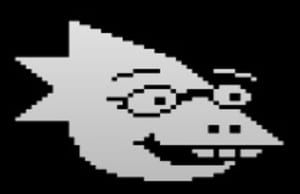 Alphys
No, um, I assume bad guys?
Alphys gestured to her side.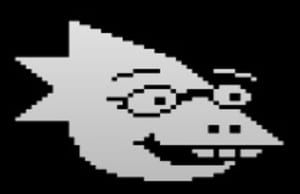 Alphys
It'll get better. Toriel is already putting in an order for new . . .?
Frisk tried to hold onto a bed as she felt herself moving backwards. The bed scooted with her, and almost bumped into the next bed if Frisk didn't let go. She tried grabbing onto the ground, but it was no better.
Frisk
Alphys, what's happening? Alphys?!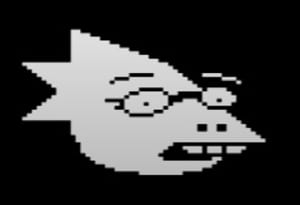 Alphys
I-I don't know! I don't know, Frisk!
Frisk kept moving backwards, until she reached the wall. Then, it all stopped. She couldn't move forward though. What was going on?
---
---
---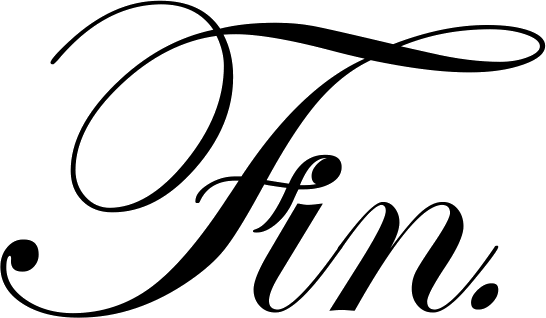 ---
---
---